Initial Consultation:
All critical measurements of your countertops will be taken for estimating purposes, either in person or from drawings. We will help you narrow down your stone choices from samples. Your edge details, backsplash and other options will be discussed. This form will be discussed with you to ensure that you understand dour process. We will get back to you with an estimate ASAP. We also supply stainless steel and granite composite sinks.
Final Stone Selection: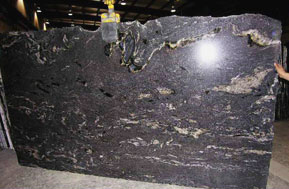 After you have a chance to review our comprehensive written estimate and have selected your stone we will request a 50% deposit.  After your stone arrives from our supplier we can have you come look at and approve your stone at our shop in Salmon Arm before templating.
Templating:
Templates of your countertops will be made. If you are replacing existing countertops, only your backsplash will need to be removed for templating. The countertops can be left in place until just before your granite is installed. We do this to minimize the time that you are without your kitchen. If you are installing new cabinets, they must be completely installed in their permanent position before templating.
All related appliances, sinks, faucets, soap dispensers, stoves, cook-tops, downdrafts must be on site the day of templating as there will need to be measurements taken.
The location of any seams will be discussed.
The location of faucet holes and accessories will be discussed.
Fabrication:
Once we have templates in our shop, they are carefully laid out onto the slabs you have selected and cut into components that will become your countertops. After the parts are cut to shape, the entire kitchen is mocked up on tables and the edges are profiled and polished.  Undermount sinks are cut out and polished, and all the final details are attended to.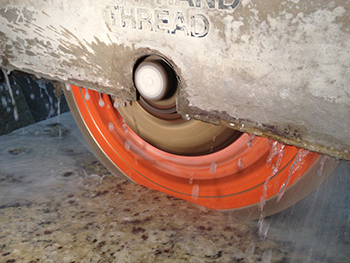 Once the parts are finished they are carefully loaded into one of our trucks and transported to your home for installation.
Installation: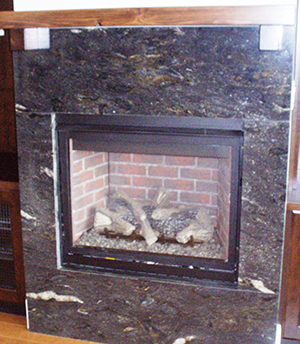 Our professional installation team will carefully bring your new countertops into your house and secure them in place.
Undermount sinks will be mounted to the granite. Top mount sinks, cook-tops and downdrafts will be set into place to verify fit.  We DO NOT attach taps, cook-tops, downdrafts, dishwashers, or any electrical appliances.  A local licensed professional should be able to assist you.
Warranty:
We stand behind our granite slab installations with a LIFETIME warranty!  As long as our company is in business, and as long as you own your home, you can rest assured we will stand behind our product.
Timeline: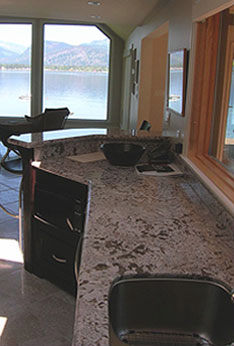 Once we have a signed contract and deposit, we will schedule a templating date.
A typical template takes 1-3 hours depending on the size of the job.
If old countertops need to be taken out, we will gladly provide this service for an additional charge. Otherwise this needs to be completed at least the day before installation.
We will return to install your finished countertops approximately 1-2 weeks after templating. Installation will typically take one day.
You can schedule your plumber to hook up your sink the day after installation.
Final payment is due upon completion.